CBS News gains access to Homestead, Florida, detention center
HOMESTEAD, Fla. — The detention centers holding undocumented immigrant children have gained attention recently over concern of conditions inside as well as the limited access to them for journalists and lawmakers. CBS News recently toured a detention center in Homestead, Florida, where lawmakers were previously denied access.
CBS News correspondent Mark Strassmann went on an escorted tour of the facility for nearly an hour but said there were some restrictions: They were not allowed to walk off on their own or speak to children being held at the facility. There were 1,200 kids — with boys outnumbering girls at a ratio of two to one. Most of the kids were sent there within 72 hours if they were caught crossing the border.
"Officials take great pains to say this is an 'emergency shelter,' not a detention center," Strassmann said. Inside there are dorms and classrooms, he said, describing it as a very rough-looking community college.
The vast majority of the kids were unaccompanied minors caught coming to the US on their own. There were about 70 of the 1,200 kids who were separated from their families and are in legal limbo. There's a case management center of about 15 employees who are attempting to reunite kids with their families, but if their families are in a detention facility it's unclear how they will reunite with them.
About 85 percent of the children are reunited with a parent, family member or family friend. The others go to a sponsor family or foster family, and maybe that's where the 70 children will end up if they can't identify family members or if the family members are in detention centers.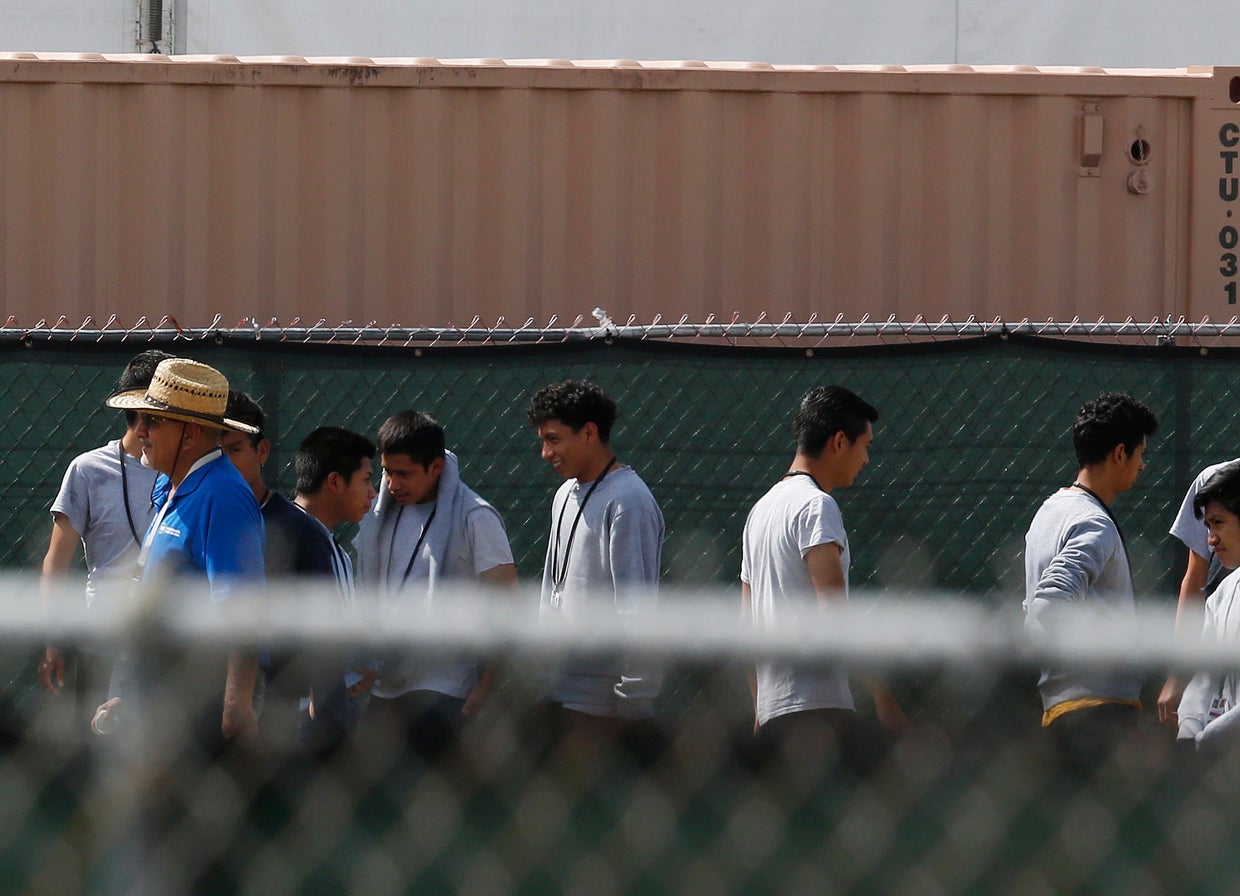 Migrant children walk outside at the Homestead Temporary Shelter for Unaccompanied Children, a former Job Corps site that now houses them, on Friday, June 22, 2018, in Homestead, Florida.
Brynn Anderson/AP
Boys and girls, mostly kept separate, could be seen walking in line to the dining hall and classes wearing government-issued cotton T-shirts and gym shorts. One group played basketball in the hot sun on a concrete court. Another group played soccer, shouting and laughing in a grass courtyard between dormitories. Others watched cartoons in the waiting area of ​​a medical clinic. Girls walking in a line to class in pink T-shirts smiled shyly at a journalist, and said, "buenos dias."
Program director Leslie Wood said 792 males and 387 females aged 13 to 17, were being held there, with more expected in coming days. The vast majority are from Central America and arrived in the US without relatives, she said.
"We provide all of them with the services that are required and we treat them with care," she said.
Democratic lawmakers were refused entry on Tuesday. Protesters have gathered outside, accusing the Trump administration of trying to cover up mistreatment amid an outcry over images recorded elsewhere of crying children and minors locked up in what appear to be cage-like cells.
Children separated from parents suffer long-term mental health effects
03:48
Wood bristled at the suggestion that she runs a detention facility. She said there are no cages or cell-like enclosures anywhere on the grounds, and said the facility focuses on assimilation into American society and reunifying children with relatives.
"It's not a detention facility. I see it as a shelter," Wood said. "A detention facility is a much more restrictive setting."
The facility, contracted by the Department of Health and Human Services, is surrounded by chain-link fence, but there is no barbed wire. There are guards, but they are not armed. Doors have been removed from the dormitory bedrooms.
Wood said one child tried to escape, but staff surrounded him before he could leave. She declined to provide additional details. "He was just anxious; it wasn't anything," she said.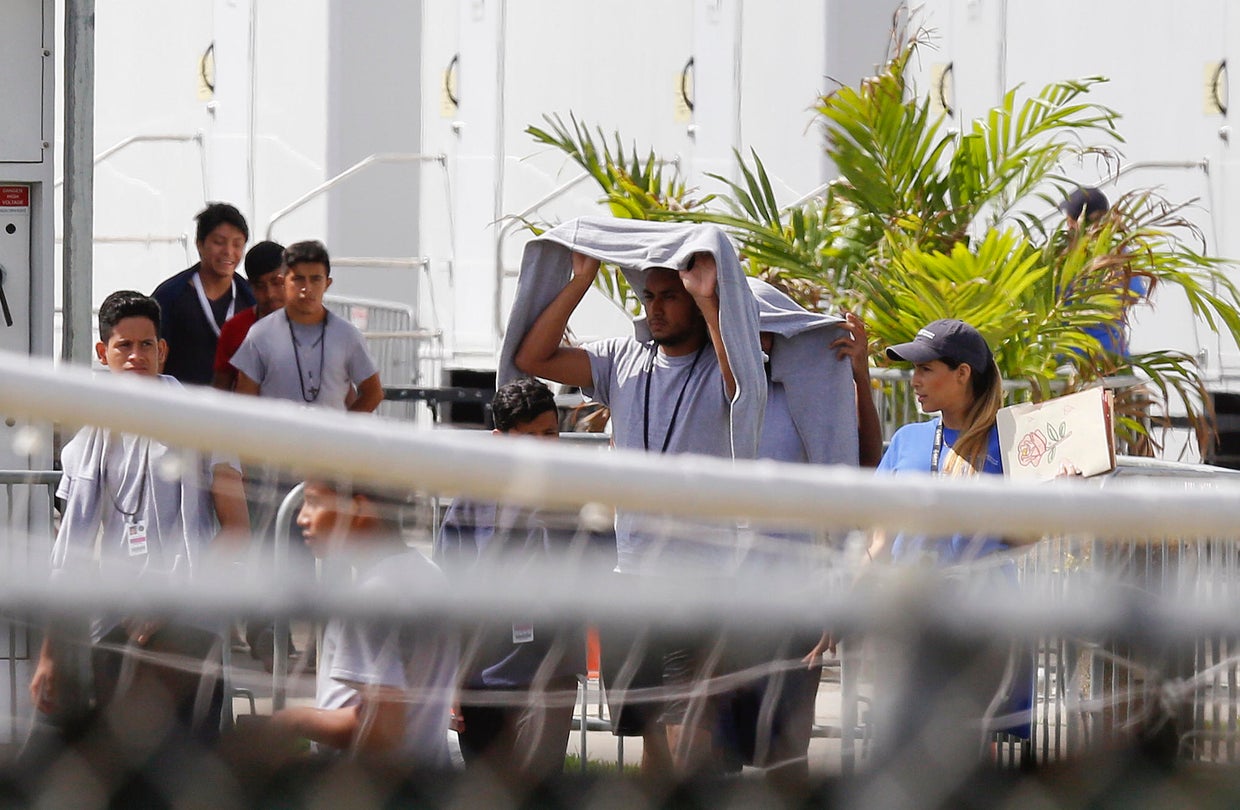 Migrant children walk outside at the Homestead Temporary Shelter for Unaccompanied Children, a former Job Corps site that now houses them, on Friday, June 22, 2018, in Homestead, Florida.
Brynn Anderson/AP
Wood said that overall, the children have not been problematic. Some females who arrived pregnant or injured have been moved to other facilities. There have been no suicide attempts, she said.
At night, lights go out in the rooms at 10 p.m. but are left on in the hallways. The children are awakened each day at 6:30 am for a full day's program of activities and classes.
"These children are really very good children," Wood said. "They are just fleeing violence and hardship in their countries."
trending news