Cool As A Beatles Song | Webster Kirkwood Times
Just as four Beatles looked for "Norwegian Wood" in a cooler clime in 1965, some area residents recently looked for an artesian well in sizzling 2022 heat. Ozark wells offer cool, flowing water, even when its 100-plus degrees.
"I love taking people to see the artesian well at Sycamore Valley," said Bill Spradley, a Kirkwood businessman who owns a farm near the well in the Ozark country. "The water is cold, pure, refreshing, and it flows constantly.
"It gets a lot of visitors from the locals, but also from all over the country," added Spradley. "It even gets travel reviews on Google."
Indeed, the artesian well east of Fredericktown and south of Highway 72 has a gaggle of Google reviews. One advises visitors to take "all kinds of jugs" because the waters are "just a thing you'll have to experience."
Spradley, who works during the week at his Trees, Forests and Landscapes, Inc. company in Kirkwood, retreats to his Ozark hideaway on the weekends. At an intersection of roads just south of his homestead is an amazing water flow that never goes quiet.
It started in the late 1940s, when a shaft was sunk more than 1,200 feet below the ground. But it wasn't black gold that erupted from the depths. It was clear, cold water under natural pressure, gushing at 50 gallons per minute.
An artesian well releases spring water and requires no pumps. The most famous artesian wells are located in Artois, France. Artois was known as the "Roman City of Wells" in the Middle Ages.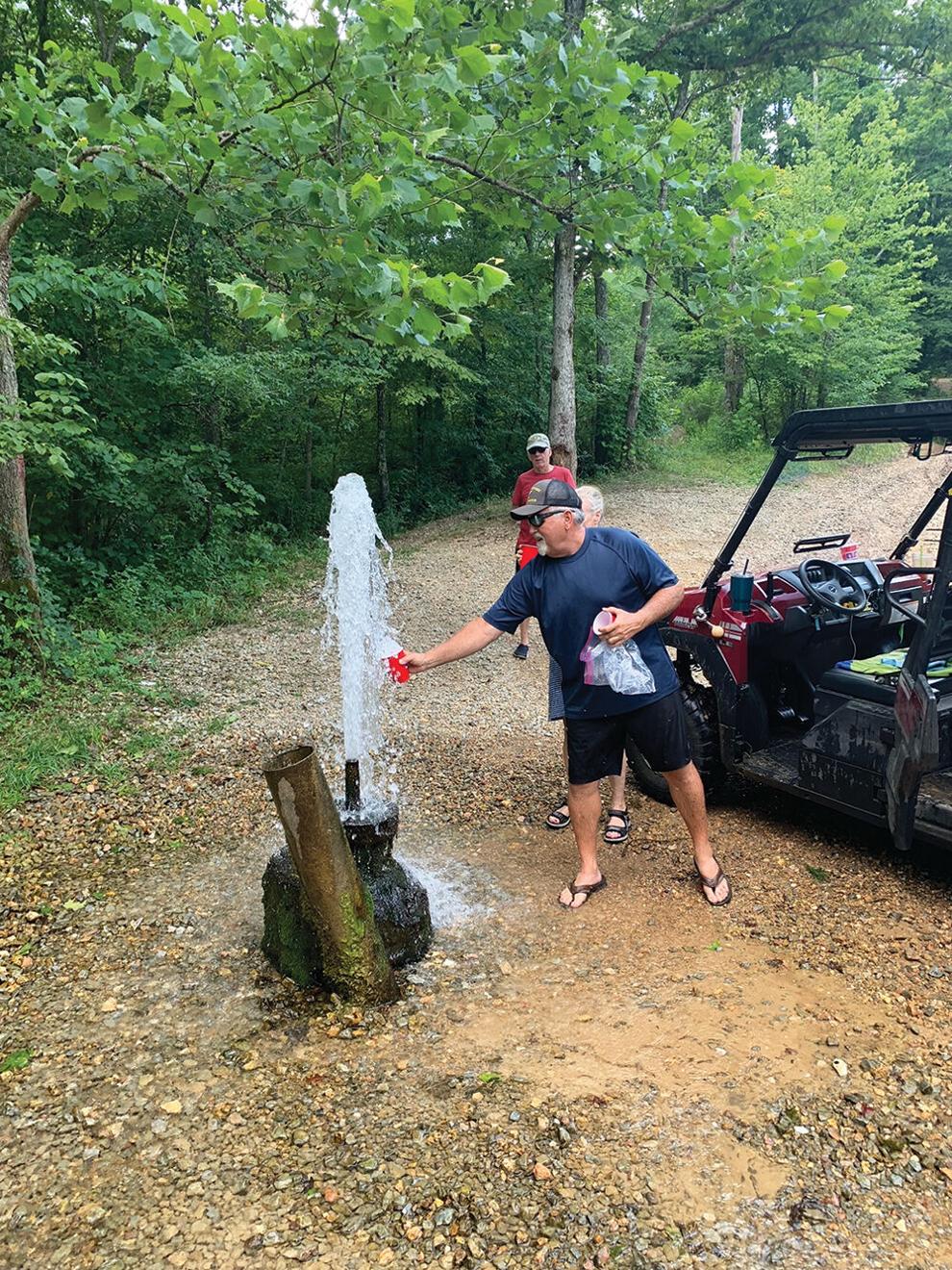 In addition to Missouri, artesian wells can be found in Florida, Texas and Georgia in the United States. Unfortunately, these wells are often contaminated by industrial and agricultural pollutants due to lax environmental protections.
Spradley said the Sycamore Valley artesian well in the Mark Twain National Forest is in a very isolated area where the land is steep, rocky and undeveloped. The nearest towns are miles away and aren't very populated. That all helps the water stay pristine.
"It's not polluted, and this water flows through very tight sandstone material under high pressure, which means it's highly filtered," said Kirkwood's Spradley. "We are very lucky to have it."
Bottled Water Craze
Spradley said a number of bottled water companies have coveted the artesian well, but the federal government has told them it's not for sale. 
The bottled water craze began in the 1970s and has accelerated in the past two decades. Bottles are now labeled with descriptions using terms like ionized, isotonic, hydrogenated — and artesian.
It takes a science background to comprehend some of the terminology, but the "artesian" adjective stands apart. Artesian isn't about any chemical makeup, but derives instead from a natural history narrative.
Spradley said he's not interested in the chemical terminology, but would like to know more about Artois, France. He'd like to add some of that background to his many stories about the well.
"I bought the farm here 22 years ago, and I heard a lot of stories about the well," he said. "I've collected some of my own since then. They say the water shot 10 feet in the air for the first few years.
"Then the well head was vandalized and the water was down to just a few inches high. But a Good Samaritan came along and repaired it," added Spradley. "Vandalism can be a problem, which is a shame.
Hippies and hipsters like to come to Sycamore Valley to bottle the water for personal use. They believe Mother Nature has imbued the waters with medicinal qualities for healing.
"I've had to get my tractor to pull out fools who come down these rocky roads full blast and bottom out," said Spradley. "One time I pulled out a Trans Am in high water with some stoners who were high."
Hottest Summer Week
During the hottest week this summer,  a grateful crew from Kirkwood was ecstatic to splash around and drink in the cold water from the artesian well at Sycamore Valley. Any beneficial minerals in the water were just an added bonus.
"Artesian wells are a pleasant surprise in the country," said Lesli Moylan of Kirkwood. "They're kind of a surprise thing. People protect them because they're so unusual and cool."
Moylan, who directs the Missouri Environmental Educators Association, said the state needs to protect its water sources. She praised Ste. Genevieve residents who keep a wary eye on mining development.
"There's a silica mine wanting to come in and their community desires to protect its watershed and groundwater," said Moylan. "There's concern about potential damage from a mining permit that may be too lenient." 
Missouri has great riverways and Ozark aquifers that provide abundant water. Moylan said residents should appreciate and learn about their H2O.
"We may have abundant water here, but I think it's still important to learn about water conservation," said Moylan. "For one thing, kids here will grow up and move away to water-strapped parts of the country.
"It'd be cool if more kids went on field trips like this to bring to life the really basic things in life that we take for granted," added Moylan. "That would help us understand that getting water from its source to our faucets usually takes a whole lot of energy and care."
Obviously, an artesian well can inspire educators, arborists, hippies and sojourners looking for some heat relief. Moylan and her husband, Kyle Moylan of Kirkwood, found that relief at the Sycamore Valley Artesian Well.
To paraphrase the end of the Beatles' classic ditty, "Norwegian Wood" … "So, isn't it swell, we got a cold drink from an artesian well."