Top 5 Things to Do Near Gainesville FL • Authentic Florida
Last Updated on September 21, 2022
When it comes to the best things to do near Gainesville FL, our friends at WUCF covered a lot of territory on their Gainesville episode of Florida Road Trip.
There's certainly never a shortage of awesome things to do near Gainesville FL. As soon as you can, pack your bags, get in your car, put your seatbelt on and let's go explore!
Gainesville is home to the University of Florida, Santa Fe College Teaching Zoo, and Kanapaha Botanical Gardens.
Additionally, there's Paynes Prairie Preserve State Park, several world-class museums (Cade Museum, Samuel P. Harn Museum of Art), the Matheson History Museum, and so many other fascinating places to discover.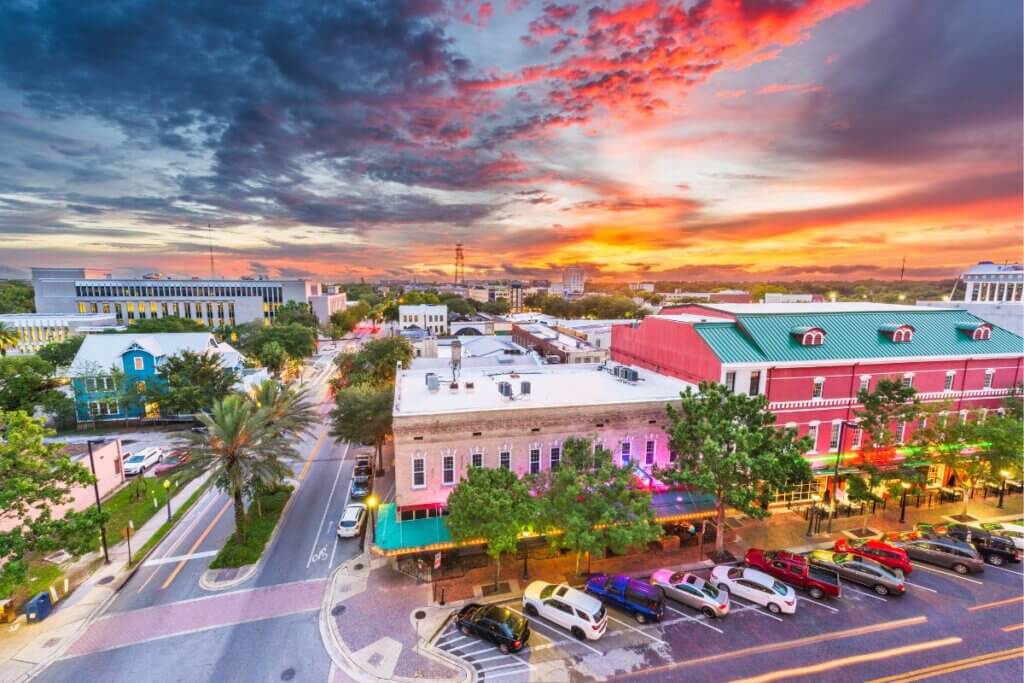 When it comes to the best restaurants in Alachua County, Downtown Gainesville is one of the top places to go. However, there are so many great dining options in this general area. We picked our 10 favorites and shared them here.
A visit to Alachua County should be on everyone's bucket list. There's so much more to discover about the North Central Florida region than meets the eye.
Here are the top 5 things to do near Gainesville FL:
1. Make a Splash at a North Florida Springs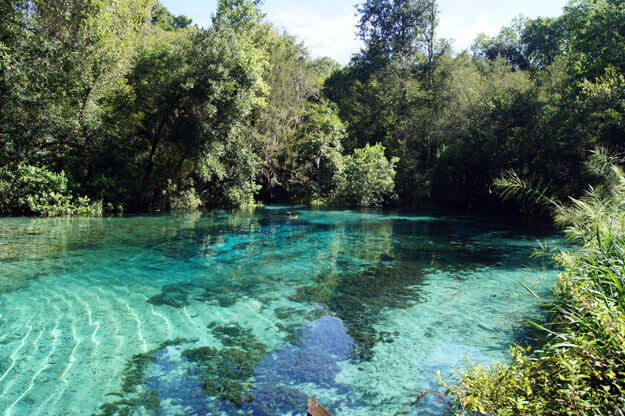 If you are in the Gainesville area, then a trip to a Florida spring is a must! Springs are popular with nature lovers, young people, families, and retirees. Basically, anyone craving an opportunity to explore great outdoor activities.
No matter which Spring you visit, go early in the day. These Florida gems will reach full capacity FAST. Picnic tables are claimed quickly, too. If you can get away on a weekday, then we highly recommend you do that.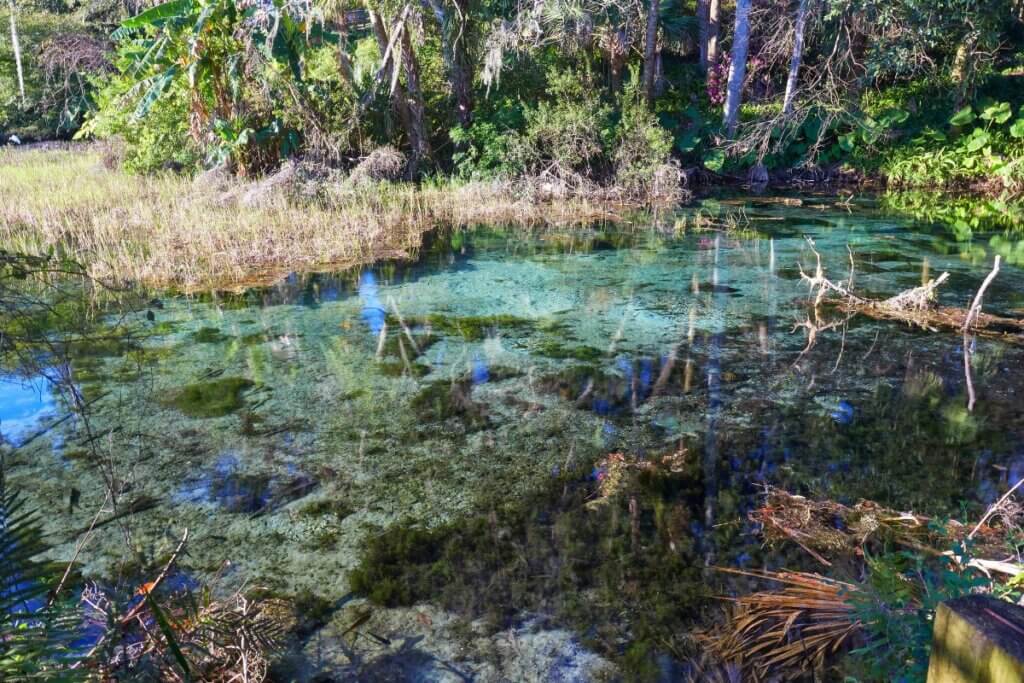 We've put together a collection of our favorite natural springs within an hour's drive of Gainesville (North Central Florida). Undeniably a freshwater Spring is a perfect place to cool down from the Florida heat.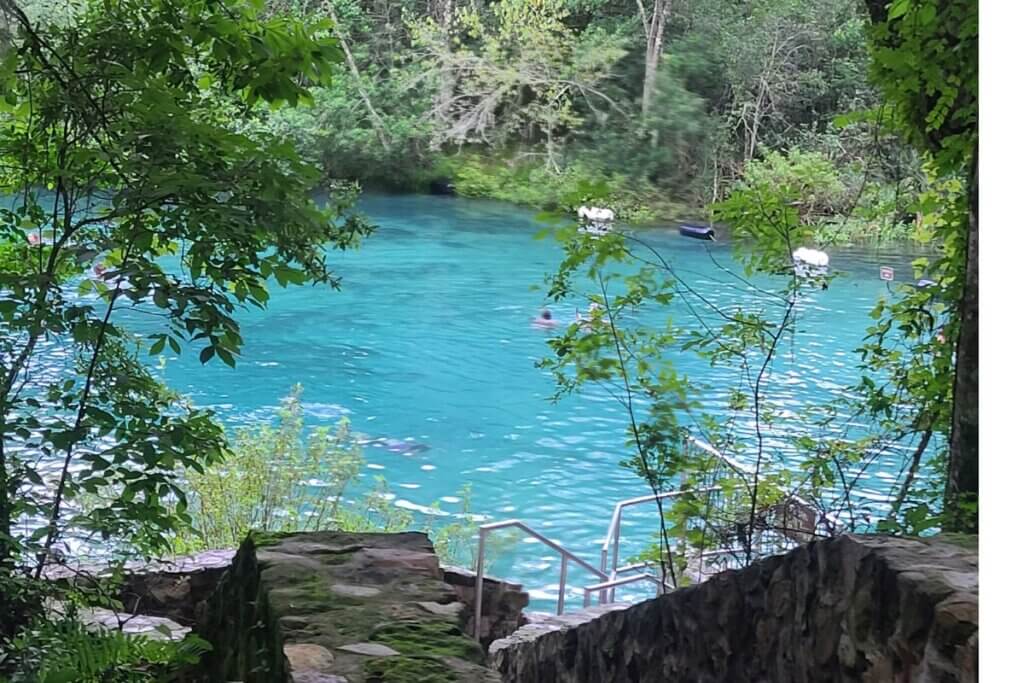 Five Natural Springs near Gainesville:
Tips for Visiting Devil's Den Spring
Devil's Den is privately owned; it's NOT a Florida State Park. Your Florida State Park annual pass does not work here.
Plan Ahead!  In reality, admittance is by appointment only. So you must book online before visiting.
To reserve a spot, pick your date and the number of people in your party. Make your reservation at least several days ahead of time. (In the summer months, the schedule fills up a week or more out).
No one under 18 is allowed without a guardian.
For liability reasons, this is not a place for sightseeing. Only people paying to scuba dive or snorkel are allowed to take the staircase down to the Springs. In fact, you're really not allowed on the grounds unless you are a paying participant.
Location: 5390 NE 180th Ave., Williston, FL 32696 (approximately 33 minutes from Gainesville)
If you'd like more information about Devil's Den, check out this article: 5 Things to Do in Devil's Den for the Perfect Trip.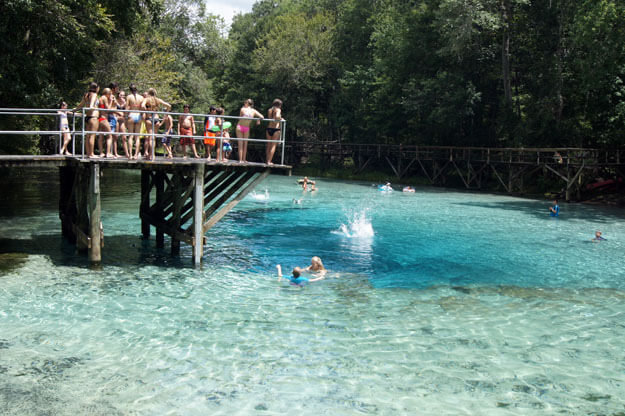 Tips for Visiting Ruth B. Kirby Gilchrist Blue Springs State Park
This is the smallest of the springs and a favorite of locals. Above all, it's usually the least crowded of all the Florida public springs in this area.
Campsites are nice and shady. However, if you are camping, be aware that you will be sharing a bath house with day visitors.
Be aware! The road towards the Springs is not paved. It can be a bit challenging to drive on especially if it has been raining a lot.
Bring your own food and drinks (no alcohol). They have a concession stand, but the choices are somewhat limited.
Depending on your cellular service provider, you may have issues getting service. It forces you to unplug and relax.
If you are looking for a beautiful atmosphere with lots of peace and quiet, then this Florida Spring is the one to visit.
Location: 7450 NE 60th St., High Springs, FL 32643 (approximately 44 minutes from Gainesville)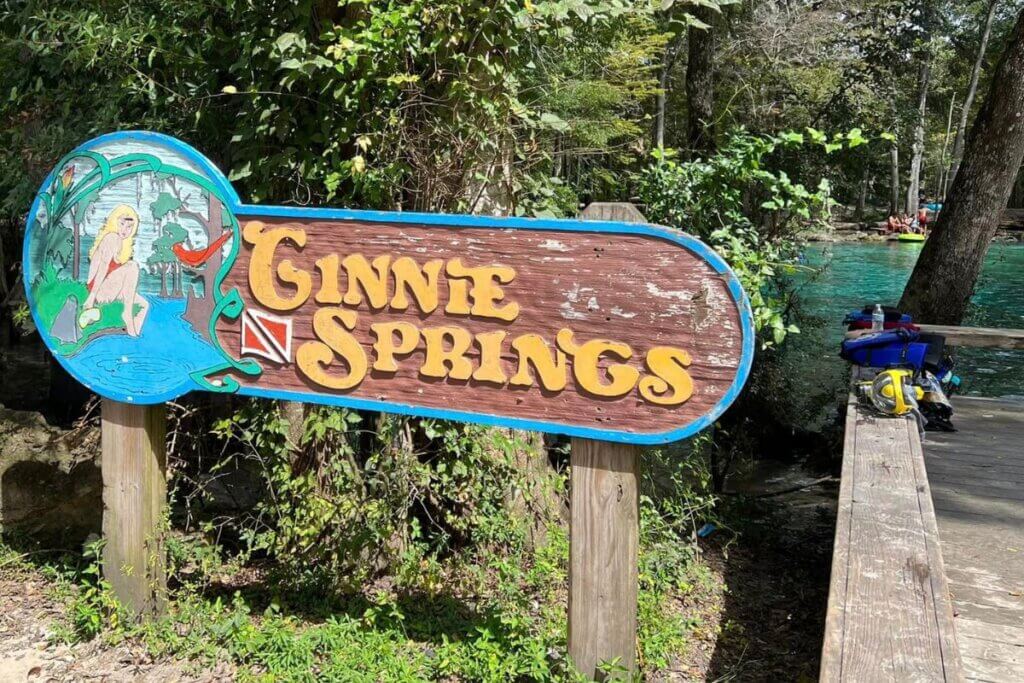 Tips for Visiting Ginnie Springs
Ginnie Springs is privately owned; it's NOT a Florida State Park. Your Florida State Park annual pass does not work here.
At the present time, this is one of the most popular and crowded springs in the area.
Because it's privately owned, Ginnie Springs is one of the only springs in Florida that allows alcohol. If you enjoy a cocktail sitting spring-side, this is the Florida Spring for you!
Due to current river conditions, kayaks, canoes and paddle board rentals are not always available. Plan to rent an inner tube as a back-up.
For safety purposes, wear a life jacket. Guests may rent a lifejacket free of charge.
If you venture out in the river in snorkel gear, State law dictates that you must have a diver's flag and float with you at all times. Gear and flags are available to rent.
All things considered, they do not allow pets, including emotional support animals at Ginnie Springs.
If you plan to go camping and want a good campsite, make sure to arrive early to set up. Campers must be 18+ years old.
Be sure to call on the day of your visit to check park hours and for all updates. Things can vary on a day-to-day basis due to capacity, weather, and/or any number of reasons (remember it's privately owned). Phone number: 386-454-7188.
Location: 7300 Ginnie Springs Road, High Springs, FL 32643 (approximately 45 minutes from Gainesville)
4. Ichetucknee Springs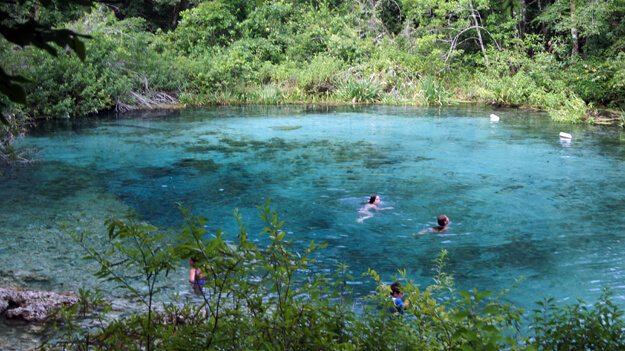 Tips for Visiting Ichetucknee Springs
If tubing, it's definitely best to rent inner tubes at the park. Don't bother bringing your own. There are restrictions, so it's easier to go this route. For rental info, click here.
Purchase a wristband for the tram ride back to the parking area! After feeling relaxed and tired from floating in the Florida sun, a tram ride is a perfect ending. Additionally, the tram hauls your innertube back for you!
Go Early! This park is often at capacity at opening time. Visitors tend to line up at the gate before opening.
If canoeing or kayaking, it's important to note there is a daily limit of canoes & kayaks allowed in the area.
If you aren't early … The park will admit more visitors after others leave. 2 pm is an ideal time when the "first wave" of visitors departs — plus, it still gives you plenty of time to enjoy the park before closing.
Pay close attention to the posted river ride times! At times the current is slower, so it can take longer than usual to float down the river.
Pay close attention to which launch area and landing you are entering. There are two and ride times can vary greatly.
Don't skip Blue Hole Spring! Drive from the parking area at the river to the Spring parking area (it's not walkable).
There is camping at the park! However, if you have a camper or RV, then check out the privately owned lots for camping that owners rent out (do an Airbnb search). Many have private river entrances so you won't have to worry about max capacity restrictions.
Location: 12087 S.W. U.S. Highway 27, Fort White, FL 32038 (approximately 55 minutes from Gainesville)
Want to learn more about Ichetucknee Springs? Check out our article: Tube the Ichetucknee River & Experience Authentic Florida.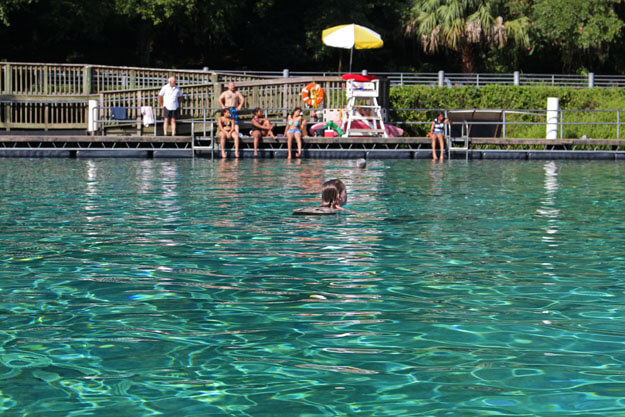 Tips for Visiting Rainbow Springs
This park fills up fast, especially on weekends and holidays. When the park is closed, vehicles may not wait in line or on adjacent roads.
What makes this Spring park extremely unique for Florida? It has Waterfalls! Man-made, but still cool!
The waterfall viewing areas are not always open. Currently, only one is working.
The concession area is only open on weekends — Pack a lunch if you go during the week!
Be mindful! The water is super clear and the bottom appears to be look more shallow than it really is.
It's a good idea to bring a pool noddle or wear a life vest.
Be sure to call before you go if you have any questions or want the latest updates. Phone: 352-465-8555.
Location: 19158 SW 81st Pl Rd., Dunnellon, FL 34432 (approximately 55 minutes from Gainesville)
We wrote a whole story about Rainbow Springs. Check it out: A Visit to Remarkable Rainbow Springs.
In case you are looking for more information about our beautiful Springs in Florida, here are two articles you should read: Our 15 Favorite Freshwater Florida Springs and Make a Splash at These 14 Natural Waterparks in Florida.
2. Step Back in Time in Micanopy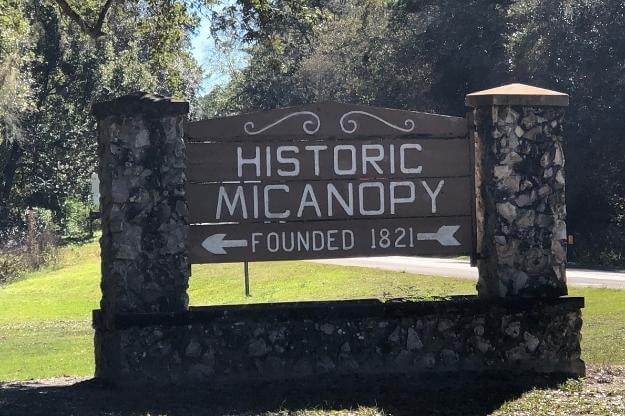 Located 15 minutes south of Gainesville, the historic district of Micanopy is the oldest inland town in Florida. The Thrasher Warehouse is home to the Micanopy Historical Museum, the Herlong Mansion, and a number of historic buildings. Micanopy truly offers a glimpse into the lives of early pioneers.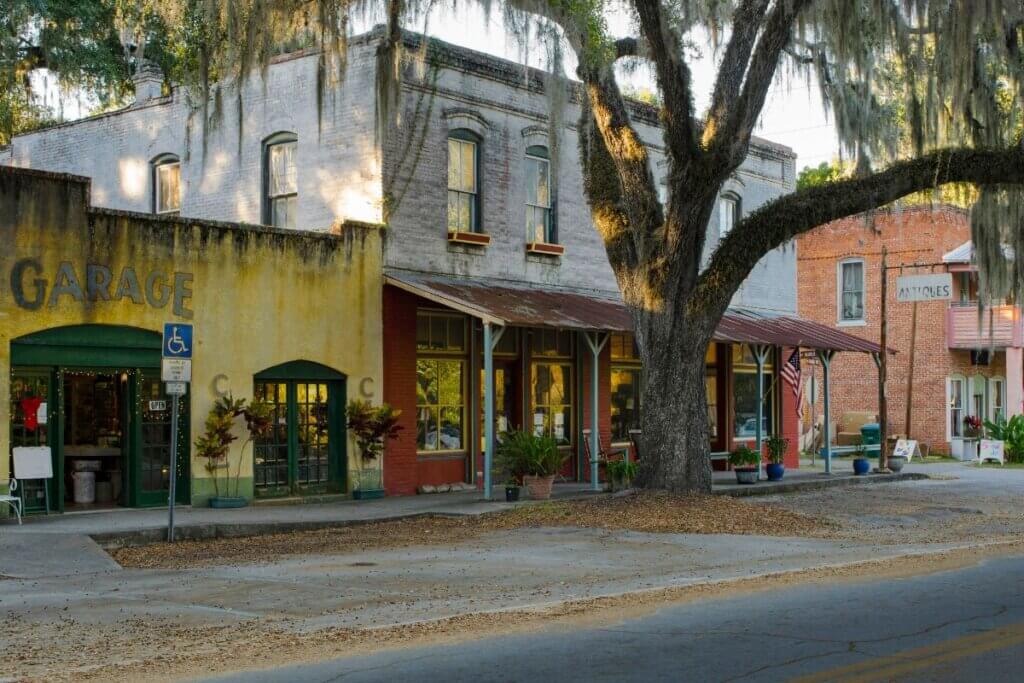 Antique enthusiasts will be impressed with the collection of vintage goods throughout the town. It's a perfect place to slow down and travel back in time.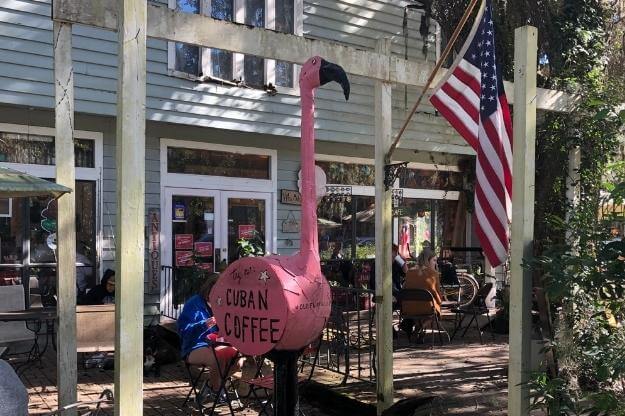 Be sure to grab an authentic Cuban sandwich and a great cup of coffee at the Old Florida Cafe.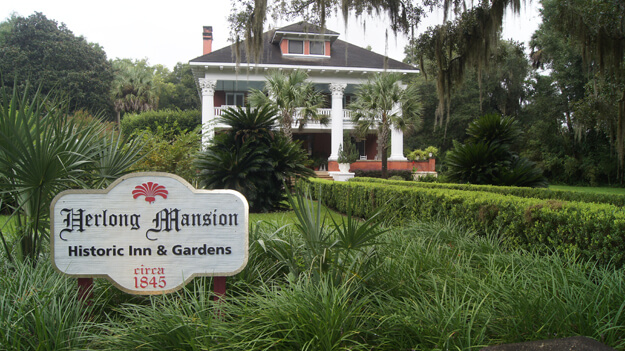 Micanopy is definitely a place to put on your must-visit list. If you want to learn more about Micanopy, check out our feature story: Micanopy: The Town that Time Forgot.
TIP: When you visit, if you want to learn more about this quaint, historic Florida town, dial 352-327-9005 on your phone, then enter the following tour stop number and press #.
400# Micanopy Overview
402# Thrasher Warehouse
425# Old Brick House
428# Herlong Mansion
433# Daily & Feaster Building
435# Franklin/Fontaine House
437# Banking Company
449# Episcopal Church
460# Old Florida Heritage Highway
3. Find Waldo! Shop at the Waldo Farmer's & Flea Market
Located about 15 miles north of Gainesville, the town of Waldo is primarily known today for the Waldo Farmer's and Flea Market.
The 20,000-square-foot market has been in operation for over 40 years and houses hundreds of independent vendors selling lots of vintage and quirky treasures.
Basically, it's a fun place to spend a few hours perusing around. The best things can be found here if you're willing to search! Plus, they have fresh produce and fair food if you work up an appetite shopping.
Did you know in the 1870s, Waldo was advertised as a "Winter Playground"? People traveled by railroad to Waldo regularly, stayed at the Waldo Hotel, went to the Opera House and enjoyed everything the city offered.
TIP: Where comfortable shoes and bring your own reusable shopping bag if you plan to visit the farmer's and flea market. We did a lot of shopping and wore flip-flops. Plus, we are not fans of plastic bags so we keep reusable bags in our car.
Location: 17805 U.S. 301, Waldo, FL 32694
4. Visit Dudley Farm Historic State Park
If you are looking for an authentic historic Florida farming experience, put a visit to Dudley Farm Historic State Park in Newberry on your places-to-go list.
Dudley Farm is managed by the Florida State Park services. This working farm includes the family farmhouse with original furnishings.
The homestead consists of eighteen original buildings that have been preserved and restored (all built between 1880 and 1940). Plus, there are crop fields and livestock. You can plow the garden, pump water, grind corn and feed the chickens.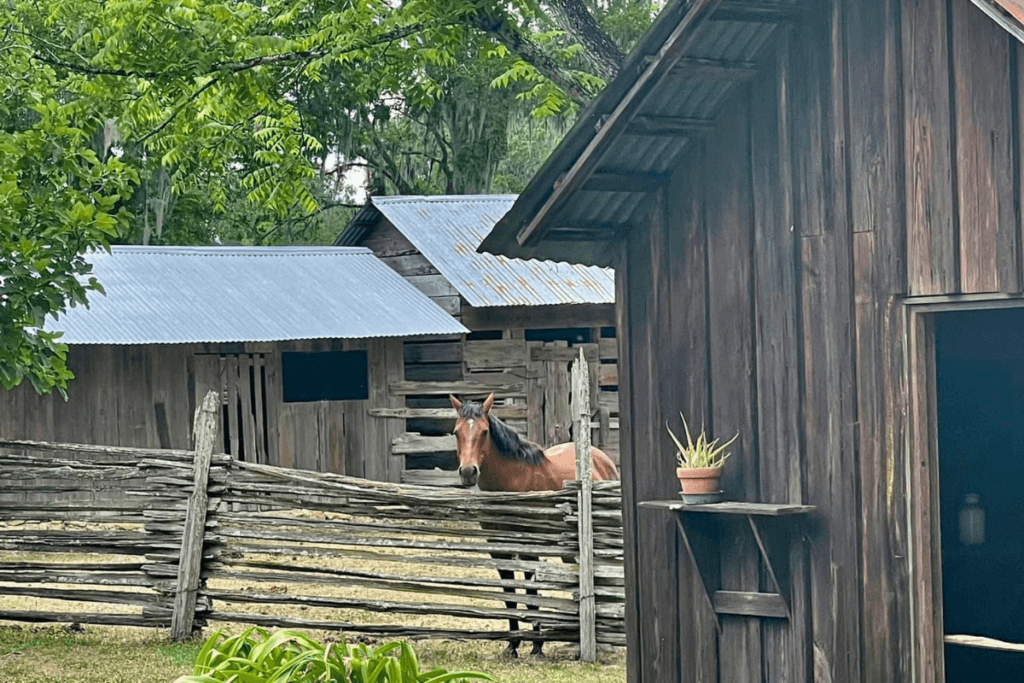 The farm was donated to the state in 1983 by Myrtle E. Dudley and was originally purchased in 1859 by her grandfather Phillip Benjamin Dudley Sr.
Dudley Farm Historic State Park in Newberry was designated as a National Historic Landmark on Jan. 13, 2021. The farm received this designation for its exceptional ability to illustrate the history of owner-operator farms in the southern U.S. in the late 19th and 20th centuries.
This living history farm is open from 9 am to 5 pm, Wednesday to Sunday (closed Monday & Tuesday).
TIP: Start at the Visitor Center and watch the informative 12-minute video about Dudley Farm. Next to the Visitor Center is the Commissary. The Commissary is open from 10 am – 3:30 pm, Wednesday through Sunday.
In addition, handmade items (i.e., quilts, knitted and crocheted items, jellies and wooden toys) are available to purchase in the Commissary.
Location: 18730 W. Newberry Road, Newberry FL 32669
5. Attend a North Florida Festival
The city of Gainesville, Alachua County and the surrounding area is chock full of live music, local artists, food trucks, and other fun special events.
Here's a list of some of the festivals and regular events we recommend attending:
TIP: Check out Visit Gainesville's calendar of events at visitgainesville.com/events/.
In conclusion, if you enjoyed this thing to do near Gainesville FL blog, check out some other fun things to do in this general area: