Voter Guide: Cherokee County Board of Commissioners, District 4 |
Occupation: Business Owner, The Part Company. We provide custom manufacturing services for engineers and product development teams.
Family: spouse, children: Wife, Angela — married 12 years. Daughter, Everley — 8 years old
Education/military service: Southern Polytechnic State University, BS in Mechanical Engineering 2009, Mississippi State University, Masters in Business Administration (MBA) 2015
Have you served in elected office before: Yes, I am currently the District 4 County Commissioner of Cherokee County and was elected in 2018.
1. What is the greatest challenge facing Cherokee County residents? And if elected, what will you do to address it?
♦ Cherokee County is a desirable place to live. We have the second lowest tax burden in the state and yet we have amazing parks and amenities. Our nationally accredited public safety departments provide top-notch services to keep us safe. The greatest challenge facing Cherokee County is controlling the growth and the threat of growing too quickly. We have been successful in keeping the growth down to a manageable pace in unincorporated Cherokee and we need to maintain that. The biggest increase in population has been in cities, we are currently working with city governments on growth boundary agreements to better control excessive development. Utilizing the comprehensive land use plan will help us stabilize our growth and provide the time needed for infrastructure and roads to catch up.
♦ Economic growth is needed to maintain our thriving community. Businesses provide a larger tax base, which helps to keep property taxes low for existing residents. Economic development offers our residents the opportunity to find good paying jobs here at home, it also brings in additional amenities that are needed such as restaurants and retail establishments. We must stick to our land use plan and keep growth at a manageable rate.
2. What is your solution to Cherokee County's traffic problems?
♦ To solve Cherokee County's traffic problems, we must stabilize growth, invest in infrastructure, and provide alternative options for getting in and out of communities. If we grow responsibly and follow the land use plan, we can keep up with infrastructure investments and not get further behind. Any additional funding we can put into resurfacing roads and providing traffic flow improvements must be prioritized.
♦ We must also provide pathways, sidewalks, and other methods for getting around the community. We currently have very few options for getting from neighborhoods to commercial areas and parks. Most residents must get in their car and drive to wherever they need to go. We are currently working on a bike and walking path to connect all the subdivisions within the Towne Lake area, and we need to look at other areas in our community that would benefit from alternative options to traveling everywhere by car. If we provide the necessary bike paths and walking paths that connect different areas of the community, we can begin to alleviate some of the congestion.
3. Cherokee County has commissioned a needs assessment on the county's housing inventory. What should the county do to address affordable housing?
♦ To address the work-force housing needs in the county, we must create an environment that is open to these types of developments and allows affordable housing developments to fit within our land use plan. Identifying areas for affordable housing, creating appropriate ordinances for this type of use, and working with developers to coordinate these developments are all needed to address the problem. I do not support affordable housing to attract new residents to our county, however, I will support solutions to provide affordable housing to the people that currently work in Cherokee County such as our public safety personnel and our school district employees.
♦ I do not support using county tax revenue to assist with funding for affordable housing developments. There are many programs for financial assistance available from the Federal and our State governments for affordable housing. Cherokee County is a wonderful place to live and work. I believe that if your career is in Cherokee County, you should be able to live in Cherokee County. That means we need the right mix of housing types to make that happen.
4. If elected, what will your approach be to new residential and commercial development in Cherokee?
♦ Upon re-election, I will continue to follow the Comprehensive Land Use Plan, the Small Area Plans, and the Overlay Plans to make decisions about future developments. We have worked very hard in developing these plans and have solicited input from the business community, the county staff and, most importantly, the residents of the County. These plans are meant to be the guide for future developments, and I will utilize them to make decisions about approving or denying future commercial and residential developments in the county.
5. What can be done to make the county government more transparent to the public?
♦ Transparency is important to all Commissioners, and we continue to explore ways to improve it. We hold Commission meetings four times a month (every first and third Tuesday we hold work sessions and regular meetings) for the public to attend in person. All our meetings are broadcast live on the county website and are available to watch at any time. The agendas, minutes and videos of all meetings are available on our website for three years. Cherokee County earned an A+ award for Top Transparency Website from the Sunshine Review.
♦ The County website contains a vast amount of informational documentation to assist our residents and business owners. You will find consumer tips, tax assessment data, GIS mapping, re-zoning applications, financial information including the annual budgets and audits, forms to submit for needed services such as road repairs to assistance for veterans, and so much more. To provide greater transparency, our communications department communicates with citizens on social media. Regular updates, including a summary of our meetings, upcoming events in the county and current news, are available on Facebook, Twitter, and Instagram. Residents are also able to register on the county website to receive regular updates from their district commissioner by email.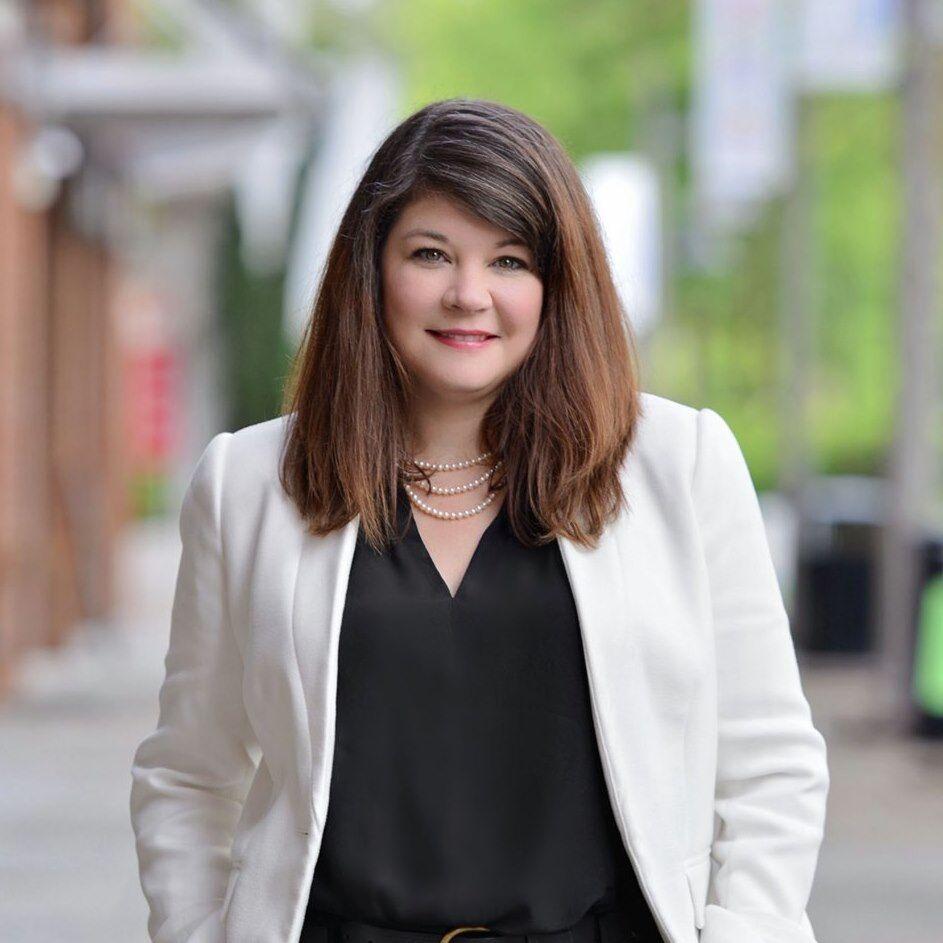 Occupation: Local Government Consultant
Hometown: Jacksonville, FL
Family: Husband — Michael Singletary, Children — Ethan Singletary 16yrs old, Madelyn Singletary 14yrs old and Katheryn Singletary 9yrs old
Education/military service: I received a Bachelor's in Counseling from the Baptist College of Florida and a Master's in Public Policy from Georgia State University.
Have you served in elected office before: No
1. What is the greatest challenge facing Cherokee County residents? And if elected, what will you do to address it?
♦ The greatest challenge facing Cherokee County is the coming growth we will see over the next ten years. Once elected, I will push for a countywide strategic plan, which will put all of the county's needs into a centralized plan that will set the direction for how we forecast and navigate growth in the next 5, 10, 15+ years. We need to address where the new neighborhoods should go, the needed infrastructure improvements to support the new growth, and the long-term design guidelines for the area. A great example of planning for growth before it comes is the Towne Lake area. This was a plan-to-build community where the County planned the needed improvements and set the standards for the developers to follow. To stop the suburban sprawl and have smart growth, we must get back to proper planning for development, both business and residential.
2. What is your solution to Cherokee County's traffic problems?
♦ Traffic problems are difficult because they are easier to address before they arise. The County Commission needs to make interconnectivity of new roads and development a top priority. In addition to looking forward, we need to make sure we are properly taking care of our existing roads. The Commission should also be lobbying the Senators and State Representatives for Cherokee County. After redistricting, we now have more representation at the Capitol. The Commission should be developing relationships with all state and federal level representation to ensure transportation stays a top priority.
3. Cherokee County has commissioned a needs assessment on the County's housing inventory. What should the County do to address affordable housing?
♦ Affordable housing is a problem the entire nation is facing. I would push for more varied housing options closer to the County's downtown areas. The Commission should be open to approving smaller homes on smaller lots, as long as the price point is more accessible to people making less than $100k a year. I also would like to give our first responders a special homestead exemption to lower their tax burden. This would make it easier for our first responders to live and work in Cherokee County.
4. If elected, what will your approach be to new residential and commercial development in Cherokee?
♦ Within the countywide strategic plan I would like to put in place, I would like to see the County have two more plan-to-build communities. These areas should be placed in proximity to Woodstock and Canton. This would encourage responsible growth, preplan the infrastructure improvements, and set design guidelines for how it should look.
♦ In order to encourage commercial development, I would take a two-pronged approach. I would first increase the budget for the Cherokee Office of Economic Development. Cherokee County has a fantastic team in that office, and they desperately need more resources. Secondly, I would work with the cities of Cherokee County. For example, Woodstock is the economic seat of the County. How can the County partner with Woodstock to entice more commercial development? I believe the possibilities are endless.
5. What can be done to make the county government more transparent to the public?
From my experience working for local government, I know that building transparency takes time and intentionality. I believe some small practical changes to the county website would make finding information easier. However, the best way is to have strategic performance management that details the long-term goals and the clear path to achieving those goals. When the public understands what the goals are for the County and what the plan is to achieve those goals, that makes for a more transparent process. The process should be communicated at every step of the way. From my point of view, the Commissioners should not have personal goals but rather a collective stated goal and then stick to the plan.